Mercedes-AMG Team Riley Gives Wynn's First IMSA WeatherTech SportsCar Championship Win Sunday at VIRginia International Raceway
– Ben Keating, Jeroen Bleekemolen and the Wynn's No. 33 Mercedes-AMG GT3 Team Put Together a Perfect Race for Victory of 2019 Season
– Victory in First Year of Partnership with Ben Keating Adds to Dual Celebration of Wynn's 80th Anniversary Year and IMSA's 50th Season
DANVILLE, Virginia (August 25, 2019) – Mercedes-AMG Team Riley Motorsports and team co-drivers Ben Keating and Jeroen Bleekemolen gave Wynn's its first victory in the IMSA WeatherTech SportsCar Championship Sunday in a well-executed race in the Michelin GT Challenge at VIRginia International Raceway (VIR).
The automotive products technology company celebrating its 80th Anniversary in 2019, Wynn's is in a partnership with Keating and Mercedes-AMG Team Riley for this year's 50th Anniversary IMSA Season in support of the team's No. 33 Mercedes-AMG GT3.
Sunday's breakout victory, which adds to the year-long 80th Anniversary celebration, was the result of a perfect performance for the first win of the season for the Wynn's No. 33 Mercedes-AMG GT3.
"We've had a great partnership with Wynn's so far this year, and have had a great time at every track," Keating said. "We've had a great Mercedes-AMG GT3, we've had a good team, so to finally put Wynn's in victory lane is great. This has been a long time coming for us and for Wynn's. I'm so happy."
Closing driver Bleekemolen took the lead in the Wynn's No. 33 for the first and only time 47 minutes from the finish of the two-hour and 40-minute race. The move to the front came after a quick, final pit stop by the Mercedes-AMG Team Riley crew two laps before the other race leaders.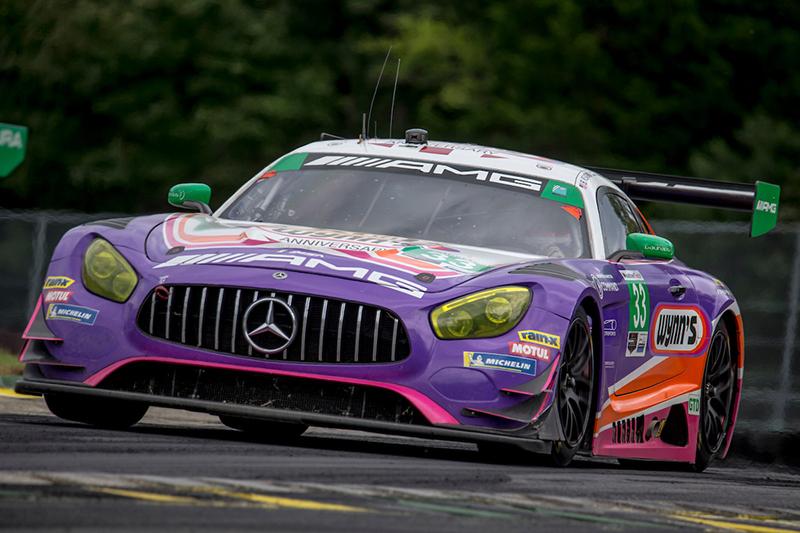 Bleekemolen returned to the race in third but, with the No. 33's tires fully up to temperature, caught and passed the second and first place competitors on successive laps, just after each returned to the race on cold tires.
"I pushed really hard on the out lap on cold tires, so we had warmer tires after the final pit stops," Bleekemolen said. "That was key in passing for the lead. I think we pitted two laps earlier, and that's what made it work. The leader ran a little bit wide in the Oak Tee turn and I knew it. I got him. The whole weekend was perfect. Finally."
The Wynn's No. 33 led the final 27 laps of the race, and Bleekemolen crossed the finish line .566 of a second ahead of the second-place finisher.
"It's great," Bleekemolen said. "Wynn's has been with us through all of the good and bad moments this year. We've been so unlucky, but they are always right there with us. We got a big win, but unfortunately it didn't count. They've been so supportive, and to finally get Wynn's this win is just awesome. It's about time in a way, but everything went just perfect. The guys executed perfectly. We didn't put a foot wrong the whole race."
Bleekemolen's charge to the front in the last half of the race followed an equally strong opening stint from starting driver Keating. Rolling off from the seventh starting position, Keating stayed in touch with the lead pack in the opening stages of the race, but far enough back to steer clear of any likely trouble ahead.
Twice in his 52-minute driving stint, competitors came together or spun directly in front of Keating. On both occasions, he not only avoided getting caught up in the incidents but also improved his on-track position.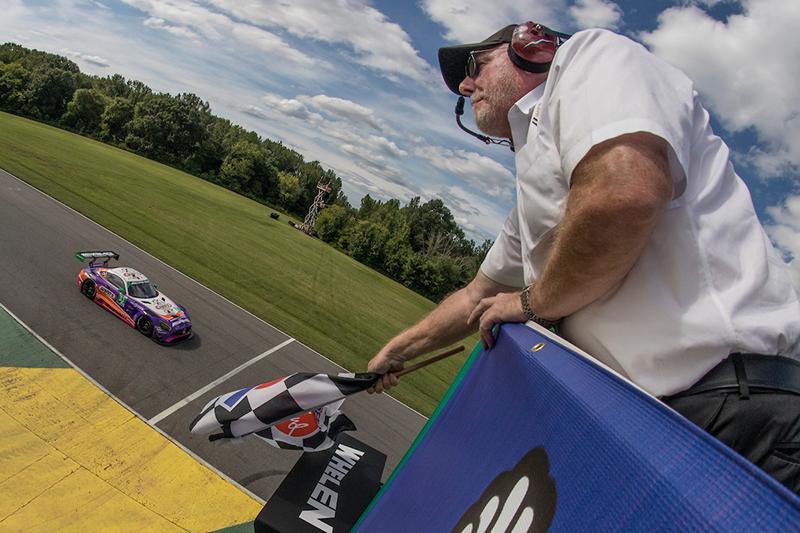 "It's not an easy place to pass here at VIR, but two times today other competitors got into each other right in front of me, but the waters parted, and I got to drive straight through," Keating said. "Twice! We finally had some good luck today to go along with a great car and a great team."
Keating moved into the top five in the final part of his stint and pitted to hand the No. 33 off to Bleekemolen from third place.
The win was the first for the Mercedes-AMG GT3 in IMSA WeatherTech Championship GT Daytona (GTD) competition since Keating, Bleekemolen and the No. 33 team won last year at Canadian Tire Motorsport Park.
Sunday's victory also ensures that Keating, Bleekemolen and Mercedes-AMG Team Riley Motorsports have scored at least one race win a season since debuting with Mercedes-AMG Motorsport Customer Racing in 2017.
Now part of the ITW Professional Automotive Products family, the Wynn's automotive technology products line started in 1939 and continues a heritage of automotive excellence today with an array of products designed to effectively treat and improve a car's engine.
The Wynn's partnership with Mercedes-AMG Team Riley features a special throwback livery that the No. 33 will carry throughout Wynn's 80th year and the 50th Anniversary IMSA Season. The multi-color scheme was run in 1987 by Hotchkis on a Porsche 962 IMSA GTP (Grand Touring Prototype) entry that was co-driven by John Hotchkis, John Hotchkis Jr. and Jim Adams.
Next up for Wynn's and Mercedes-AMG Team Riley in the IMSA WeatherTech Championship is the next-to-last race of the 2019 season at WeatherTech Raceway Laguna Seca, September 13 – 15. The two-hour and 40-minute race will be televised live on the flagship NBC network beginning at 3 p.m. EDT.
About Wynn's: Throughout its legendary history, Wynn's, now worldwide, has remained at the forefront of technology. Wynn's heritage of automotive excellence dates back to 1939 and that leadership continues today with an array of products designed to effectively treat and improve your car's engine. Wynn's represents a reliable brand that generations of car owners have come to know and trust, and we'll work hard to keep earning your loyalty, one bottle at a time. Learn more at www.WynnsUSA.com.