Wynn's Leads IMSA Michelin Endurance Cup with Mercedes-AMG Team Riley Motorsports Heading into IMSA WeatherTech SportsCar Championship Petit Le Mans Finale
– Ben Keating, Jeroen Bleekemolen, Felipe Fraga and Wynn's No. 33 Mercedes-AMG GT3 Team Bring Three-Point IMSA Michelin Endurance Cup GT Daytona (GTD) Lead to Saturday's Season-Ending 10-Hour Race at Michelin Raceway Road Atlanta
– Titles Would Place Crowning Touch on Wynn's 80th Anniversary Celebration and Bring First Year of Partnership with Keating to a Competitive Conclusion
BRASELTON, Georgia (October 8, 2019) – Wynn's, the automotive products technology company established in 1939, is primed to put the crowning touch on its 80th Anniversary Celebration this weekend with a championship-clinching performance by Mercedes-AMG Team Riley Motorsports and Wynn's No. 33 Mercedes-AMG GT3 drivers Ben Keating, Jeroen Bleekemolen and Felipe Fraga in the Petit Le Mans at Michelin Raceway Road Atlanta, October 10 – 12.
The season-ending round of the 2019 IMSA WeatherTech SportsCar Championship, the 10-hour Petit Le Mans can be seen live on the NBC Network with race-opening coverage this Saturday, October 12, starting at Noon EDT. Live coverage picks up again at 5:30 p.m. EDT on the NBC Sports Network (NBCSN), which takes Petit Le Mans straight to the 10:05 p.m. EDT checkered flag and through post-race coverage.
As a primary part of a first-year partnership with Keating and his affiliated racing teams, Wynn's and the colorful No. 33 Mercedes-AMG GT3 have supported throughout 2019 the Wynn's 80th Anniversary Celebration as well as the 50th Anniversary IMSA season.
"Racing has weaved its way into Wynn's history and heritage since our company began, and our partnership with Ben Keating and his teams this year has been at the center of our 80th Anniversary Celebration," said Manuel Barba, Business Unit Manager, ITW Professional Automotive Products. "Our first IMSA WeatherTech SportsCar Championship victory in Virginia, and a dominating performance in the 24 Hours of Le Mans, have been the highlights so far, but wrapping up our season-long 80th Anniversary Celebration this weekend with a championship would be amazing. We wish our Wynn's race team of Ben, Jeroen Bleekemolen and Felipe Fraga the very best of luck, and we will be there in full support."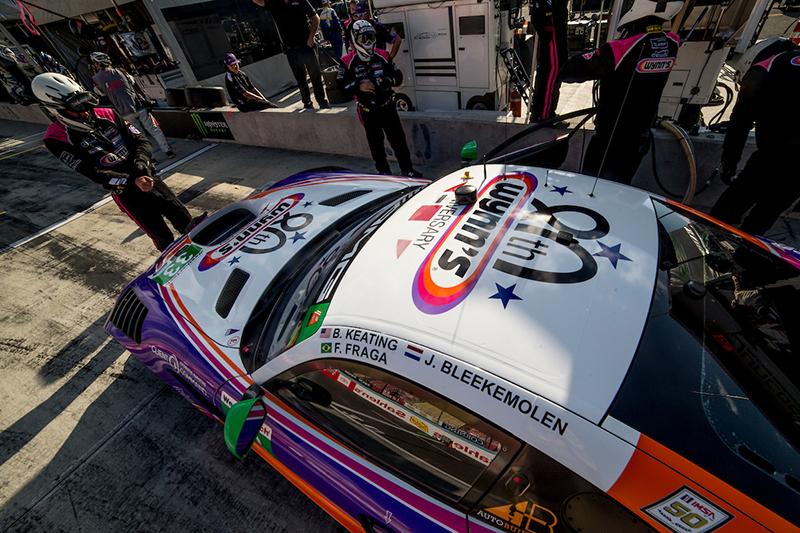 In addition to wrapping up the full IMSA WeatherTech Championship 10-race GT Daytona (GTD) season, Petit Le Mans is also the final round of the 2019 IMSA Michelin Endurance Cup.
A series within the overall IMSA WeatherTech Championship awarding the top performers in the year's four endurance races, the Michelin Endurance Cup includes January's season-opening Rolex 24 At Daytona, March's 12 Hours of Sebring, the Sahlen's Six Hours of The Glen in June and Petit Le Mans.
The Wynn's No. 33 team and drivers and Mercedes-AMG are the two-time and reigning IMSA Michelin Endurance Cup GTD champions and return to Michelin Raceway leading the 2019 championship standings. The No. 33 Mercedes-AMG GT3 squad and Mercedes-AMG have three-point leads in the respective team, driver and manufacturer standings, 29 – 26, heading into this weekend's finale.
"Wynn's has been a great partner this year," Keating said. "It's their 80th Anniversary!! It would be incredible to celebrate a Michelin Endurance Cup championship with them at the end of the night. We have been close partners in business as well, and it is always so fun to work with them in both business and racing. 'Wynning' is a way of life!"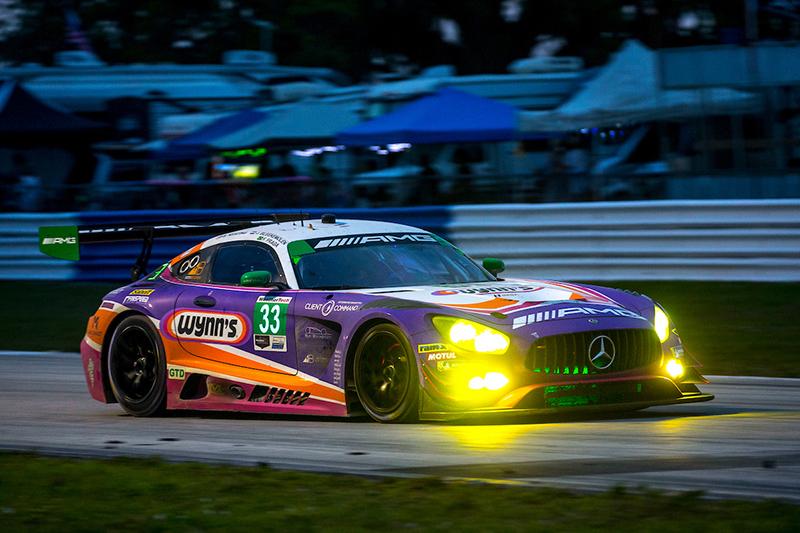 This weekend's championship pursuits benefit from a wave of positive momentum for Keating and company the last two months. One race after Keating won his first IMSA GTD pole in early August at Road America he joined Bleekemolen and the No. 33 team in giving Wynn's its first IMSA WeatherTech Championship GTD victory on August 25 at VIRginia International Raceway (VIR).
The breakout VIR win was followed by a top-five IMSA GTD finish by the Wynn's No. 33 team last month at WeatherTech Raceway Laguna Seca. Just last weekend, Keating, Bleekemolen and Fraga finished third in the GTE-Am class in a World Endurance Championship (WEC) race in Japan.
"We have had a great season together with Wynn's, and it is really nice with all of the support we have received," Bleekemolen said. "Obviously, the goal is to give them a championship this weekend. We are in a strong position, but we will have to give it our all to clinch it."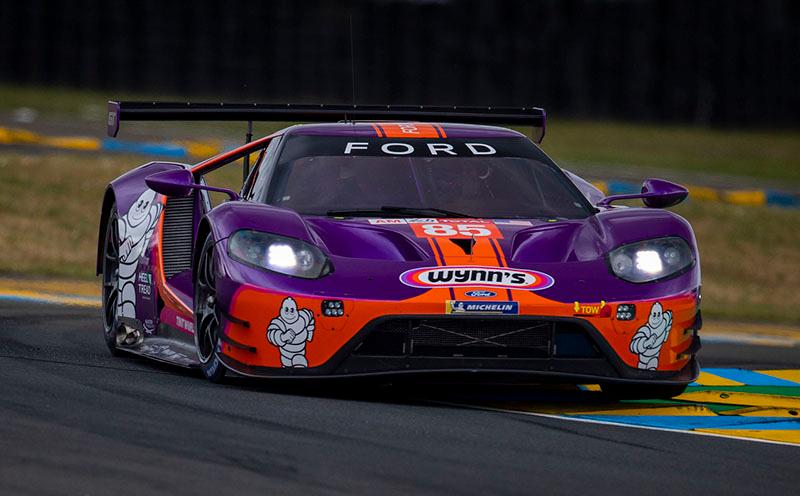 Wynn's and its European partners also brought the 80th celebration to France this past summer where Keating, Bleekemolen and Fraga scored a convincing GTE-Am class victory at the 24 Hours of Le Mans in the Wynn's No. 85 Keating Motorsports Ford GT. The win was taken away a day later when the No. 85 failed post-race technical inspection by the narrowest of margins, but Wynn's, Keating and his teammates remain proud of the performance, which clearly showed for nearly the entire 24-hour race they were the team to beat.
Additional on-track success for Wynn's this season was earned in the IMSA Michelin Pilot Challenge, a championship for production-based sports cars that is the main support series of the IMSA WeatherTech Championship.
The No. 35 Riley Motorsports Mercedes-AMG GT4 of Jim Cox and his 18-year-old co-driver Dylan Murry carried the Wynn's colors all season. With Bleekemolen added to the driver lineup for the four-hour race, Cox and closing driver Murry scored a breakout race win in June at Watkins Glen. The victory was the first for Wynn's in its return to major league sports car racing, and the first for Riley Motorsports and its trio of drivers in the ultra-competitive IMSA Michelin Pilot Challenge series.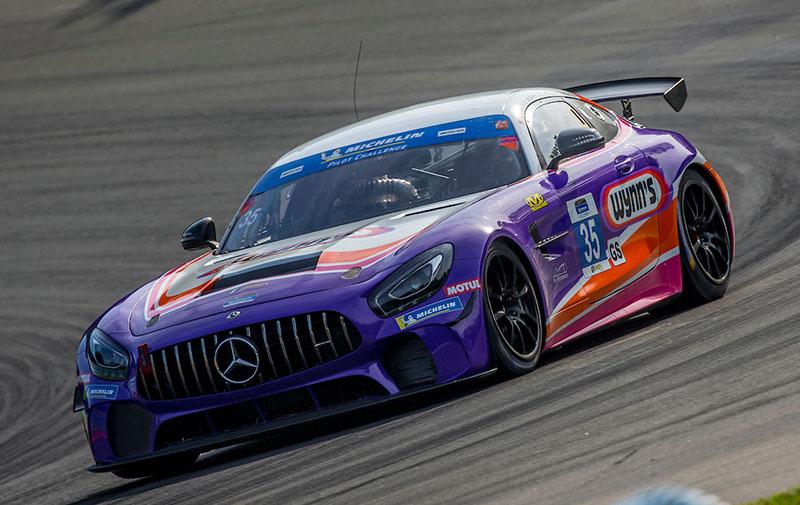 Now part of the ITW Professional Automotive Products family, the Wynn's automotive technology products line started in 1939 and continues a heritage of automotive excellence today with an array of products designed to effectively treat and improve a car's engine.
Noteworthy
– The Wynn's No. 33 Mercedes-AMG GT3 has featured a special throwback livery throughout this year's dual anniversary IMSA season. The multi-color scheme was run in 1987 by Hotchkis Racing on a Porsche 962 IMSA GTP (Grand Touring Prototype) entry that was co-driven by John Hotchkis, John Hotchkis Jr. and Jim Adams.
– Nearly 50 Wynn's associate and guests will attending Petit Le Mans this weekend in addition to arriving in Georgia early this week for several days of business meetings not far from Michelin Raceway Road Atlanta
About Wynn's: Throughout its legendary history, Wynn's, now worldwide, has remained at the forefront of technology. Wynn's heritage of automotive excellence dates back to 1939 and that leadership continues today with an array of products designed to effectively treat and improve your car's engine. Wynn's represents a reliable brand that generations of car owners have come to know and trust, and we'll work hard to keep earning your loyalty, one bottle at a time. Learn more at www.WynnsUSA.com.