Wynn's Clinches IMSA Michelin Endurance Cup Championships with Mercedes-AMG Team Riley Motorsports at Petit Le Mans Finale
– Ben Keating, Jeroen Bleekemolen, Felipe Fraga and Wynn's No. 33 Mercedes-AMG GT3 Team Prevail in Race-Long Battle for Michelin Endurance Cup Titles in 10-Hour Petit Le Mans Finale
– Titles a Crowning Touch on Wynn's 80th Anniversary Celebration and Successful First-Year Partnership with Keating
BRASELTON, Georgia (October 14, 2019) – Wynn's, the automotive products technology company established in 1939, clinched a pair of IMSA Michelin Endurance Cup season championships Saturday with Mercedes-AMG Team Riley Motorsports and Wynn's No. 33 Mercedes-AMG GT3 co-drivers Ben Keating, Jeroen Bleekemolen and Felipe Fraga after a no-quit performance in the season-ending 10-hour Petit Le Mans at Michelin Raceway Road Atlanta.
The Michelin Endurance Cup titles, which the Wynn's No. 33 team and drivers and manufacturer partner Mercedes-AMG won for the third-straight year, place a crowning touch on Wynn's year-long 80th Anniversary Celebration. Fittingly, the championships came in a year of racing that also marked the 50th Anniversary Season of leading North American sports car racing sanctioning body IMSA.
As a primary part of a first-year partnership with Keating and his affiliated racing teams, Wynn's and the colorful No. 33 Mercedes-AMG GT3 supported throughout 2019 the Wynn's 80th Anniversary Celebration as well as the 50th IMSA season.
"Wynn's has been an absolutely great partner at the track and in my auto dealerships," Keating said. "It has been so incredible to share the Wynn's 80th Anniversary Celebration with them. I am glad and grateful we can walk away with the IMSA Michelin Endurance Cup championship for Wynn's. It's not work when you are having great fun with them at the track, whether it is the Wynn's people or their distributors, employees, customers and friends, it has just been an overall great experience having Wynn's enjoying endurance racing with us."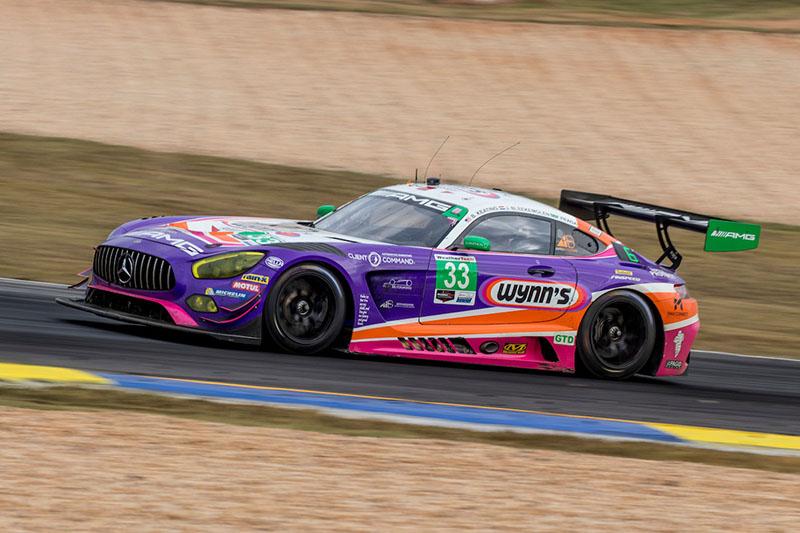 The IMSA Michelin Endurance Cup is a four-round competition within the overall IMSA WeatherTech SportsCar Championship awarding the top performers in the year's endurance races. The schedule includes the Rolex 24 At Daytona, the 12 Hours of Sebring, the Sahlen's Six Hours of The Glen and Petit Le Mans.
Driving the Mercedes-AMG Team Riley Motorsports Wynn's No. 33 Mercedes-AMG GT3, Keating, Bleekemolen and Fraga wrapped up this year's Michelin Endurance Cup titles with a fourth-place finish in Saturday's highlight 10-hour Petit Le Mans.
The Wynn's No. 33 team battled for the Endurance Cup title from the drop of the green flag and also stepped up to challenge for the overall GTD-class race win from the race's second hour when Fraga first took the lead.
After equally competitive driving stints throughout the race by Keating and Bleekemolen, Fraga was back in the Wynn's No. 33 and up front in the race's final hour. Fraga took the white flag for the last lap of the race lap in the lead only to run out of fuel before making it around to the checkered flag. The team's late gamble on a fuel-stretching strategy came up just short but was the only call that would have delivered the overall GTD win.
The incredibly close finish is typical of the drama and grueling demands of the Michelin Endurance Cup, which totals 52 hours of punishing racing in a four-race championship that in some ways is harder to win than a full-season WeatherTech SportsCar title. The championship mirrors Wynn's history and commitment to superior automotive technology products that have lengthened the life and improved the endurance of millions of car engines in the past 80 years.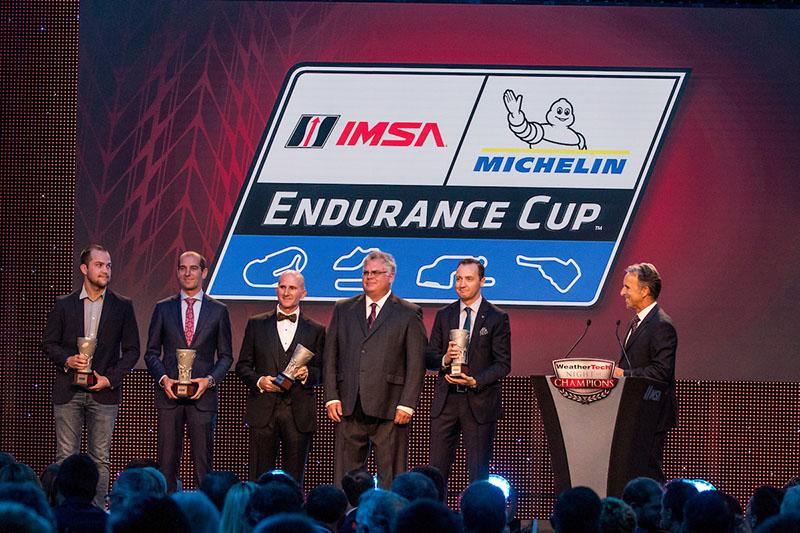 "It's a lot of racing, and a lot can go wrong in all of these endurance races, but it was great," Bleekemolen said. "We won another championship, three years in a row for the Endurance Cup with the Mercedes-AMG GT3, and we can be really proud of that. We could have won the race, we were one liter short on fuel, but we showed what we can do. It was good, and we just went for it. If the overall leader had passed the finish line 10 seconds earlier, that would have even made a difference. It was really tight."
Despite coming so close to what would have been a second race win of the season, the Wynn's No. 33 team and drivers reached their overall goal of winning the Endurance Cup titles for the third straight time. The fourth-place finish was one spot ahead of the No. 63 WeatherTech Racing team that stayed in a lock-step Endurance Cup battle with the Wynn's No. 33 throughout the race.
The Wynn's No. 33 team and drivers outpaced the No. 63 in the final stages of Saturday's race to take the Endurance Cup crowns by two points, 37 – 35. Mercedes-AMG in turn secured the Endurance Cup manufacturer championship by one point, 37 – 36.
This weekend's championships put the exclamation point on what has been a great run of on-track success for Keating and company the last two months. One race after Keating won his first IMSA GTD pole in early August at Road America he joined Bleekemolen and the team in giving Wynn's its first IMSA WeatherTech Championship GTD victory on August 25 at VIRginia International Raceway (VIR).
The breakout VIR win was followed by a top-five IMSA GTD finish by the Wynn's No. 33 team last month at WeatherTech Raceway Laguna Seca. Just two weeks ago, Keating, Bleekemolen and Fraga finished third in the GTE-Am class in World Endurance Championship (WEC) race in Japan.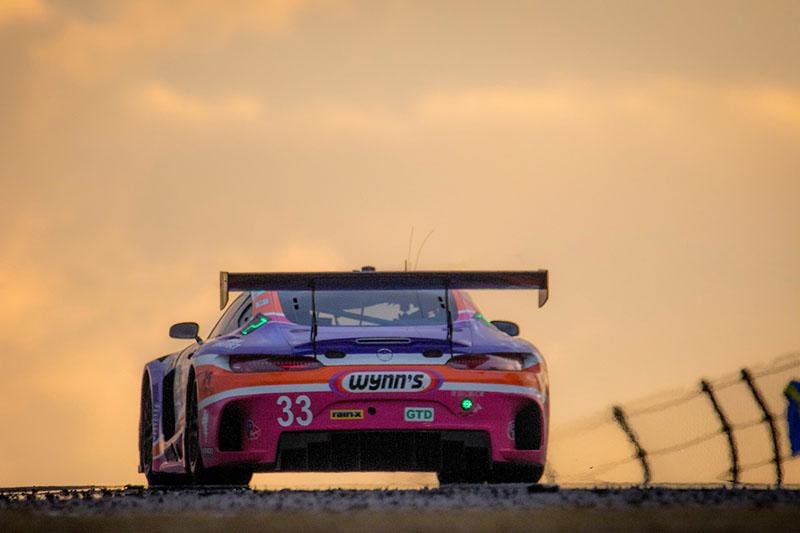 Now part of the ITW Professional Automotive Products family, the Wynn's automotive technology products line started in 1939 and continues a heritage of automotive excellence today with an array of products designed to effectively treat and improve a car's engine.
Noteworthy
– The Wynn's No. 33 Mercedes-AMG GT3 featured all season a special throwback livery throughout this year's dual anniversary IMSA season. The multi-color scheme was run in 1987 by Hotchkis on a Porsche 962 IMSA GTP (Grand Touring Prototype) entry that was co-driven by John Hotchkis, John Hotchkis Jr. and Jim Adams.
– Nearly 50 Wynn's associate and guests attended Petit Le Mans this weekend in addition to arriving in Georgia early this week for several days of business meetings not far from Michelin Raceway Road Atlanta. At the track, the highly visible group in Wynn's branded team wear were present throughout the weekend's long schedule, including from early morning Saturday and straight through the in-paddock celebration after the race as Midnight approached.
About Wynn's: Throughout its legendary history, Wynn's, now worldwide, has remained at the forefront of technology. Wynn's heritage of automotive excellence dates back to 1939 and that leadership continues today with an array of products designed to effectively treat and improve your car's engine. Wynn's represents a reliable brand that generations of car owners have come to know and trust, and we'll work hard to keep earning your loyalty, one bottle at a time. Learn more at www.WynnsUSA.com.