Wynn's Celebrates 80th Anniversary in Partnership with Ben Keating and Mercedes-AMG Team Riley Motorsports for 50th Anniversary IMSA Season
New Wynn's Partnership and Throwback Livery Unveiled Thursday at the Roar Before the Rolex 24 At Daytona
DAYTONA BEACH, Florida (January 3, 2019) – Wynn's, the automotive products technology company celebrating its 80th Anniversary in 2019, has entered a partnership with Ben Keating and Mercedes-AMG Team Riley Motorsports for this year's 50th Anniversary IMSA Season in support of the team's No. 33 Mercedes-AMG GT3.
The Wynn's partnership, and a special throwback livery that the No. 33 will carry throughout Wynn's 80th year and the 50th Anniversary IMSA Season, was unveiled today at Daytona International Speedway (DIS) where the 2019 schedule kicks off this weekend, January 4 – 6, with the annual Roar Before the Rolex 24 At Daytona test.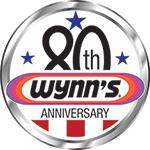 Now part of the ITW Professional Automotive Products family, the Wynn's automotive technology products line started in 1939 and continues a heritage of automotive excellence today with an array of products designed to effectively treat and improve a car's engine.
Wynn's also holds a colorful place in IMSA history from the GTP (Grand Touring Prototype) era of the late 1980s and early '90s when the brand supported Hotchkis Racing and its stable of eye-catching Porsche 962s.
The livery Wynn's and Keating chose for the 50th Anniversary IMSA Season pays tribute to the multi-color scheme Hotchkis Racing ran in 1987 when team drivers John Hotchkis, John Hotchkis Jr. and Jim Adams began the season with a fifth-place overall and GTP finish in that year's Rolex 24 At Daytona.
"All of us at Wynn's look forward to adding the partnership with Ben Keating, Bill Riley and Mercedes-AMG Team Riley Motorsports to our company's 80th Anniversary celebration in 2019," said James Stone, Vice President and General Manager of ITW Global Brands. "We couldn't think of a better time to return to major sports car racing than in our 80th year and IMSA's 50th Anniversary Season. After beginning in an old one car garage in California 80 years ago, we are proud of our history and heritage at Wynn's and look forward to helping IMSA celebrate its milestone anniversary with a competitive year of racing on the track with the Wynn's No. 33 Mercedes-AMG GT3."
Keating is the all-time IMSA Grand Touring Daytona (GTD) class race winner with 11 career victories. He returns in 2019 for a sixth-straight season with professional co-driver Jeroen Bleekemolen and the Bill Riley-led Riley Motorsports team in what will be their third-consecutive year campaigning the Mercedes-AMG GT3.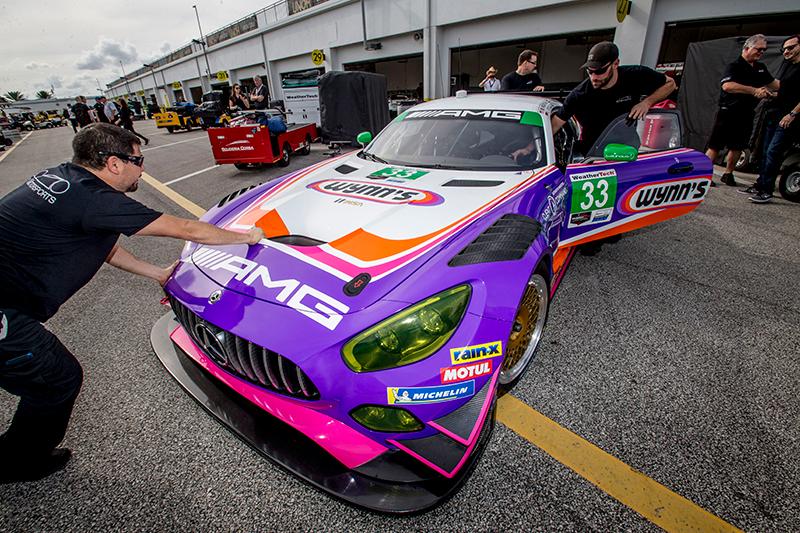 Keating is also the principal owner of the Texas-based Keating Auto Group that will open Mercedes-Benz of College Station in March. More information on Keating's newest dealership and his racing accomplishments with Mercedes-AMG Motorsport can be found at www.AMGPerformance.com.
"We are incredibly excited to help Wynn's celebrate its 80th year while also supporting the 50th Anniversary IMSA season," Keating said. "As an automobile dealer, I have been familiar with Wynn's and its fine products for years, but as a race car driver and sports car racing fan, I also have great memories of the cool Wynn's GTP cars from a few decades ago. We look forward to racing and winning with Wynn's this year and adding to the company's accomplished history and IMSA legacy."
In addition to Keating's record 11 GTD wins – 10 of which were earned with Bleekemolen as a co-driver – the No. 33 Mercedes-AM GT3 team and drivers are the two-time and defending champions of the IMSA Michelin Endurance Cup. Formerly known as the North American Endurance Cup (NAEC), the Michelin Endurance Cup is a unique four-race competition encompassing the marquee endurance races on the IMSA WeatherTech Championship schedule.
"For us to be associated with Wynn's and such a classic throwback scheme from the high-point of the GTP era is a perfect fit for IMSA's 50th season and their 80th year," Riley said. "To be racing with Wynn's support and back with Ben Keating, Jeroen Bleekemolen and Mercedes-AMG for another season with the No. 33 just couldn't be any better for me and our team. We are looking forward to a super-strong 2019 season."
Following this weekend's Rolex Roar test, the season-opening WeatherTech Championship race of the 50th Anniversary IMSA Season will be the 57th Rolex 24 At Daytona, January 24 – 27 on the 3.56-mile DIS road course.
Noteworthy
– Keating and the Mercedes-AMG Riley team are taking the Wynn's throwback livery very seriously. The team has gone so far as to arrange for display roller wheels replicating the wheels commonly used on GTP-era cars. "We want to thank Finspeed for going the extra mile in building some display roller wheels that look like the wheels used back in the day," Keating said. "Combining them with the colorful Wynn's paint scheme should make the No. 33 Mercedes-AMG GT3 one of the most popular throwback cars racing in the 50th Anniversary IMSA Season."
About Wynn's: Throughout its legendary history, Wynn's, now worldwide, has remained at the forefront of technology. Wynn's heritage of automotive excellence dates back to 1939 and that leadership continues today with an array of products designed to effectively treat and improve your car's engine. Wynn's represents a reliable brand that generations of car owners have come to know and trust, and we'll work hard to keep earning your loyalty, one bottle at a time. Learn more at www.WynnsUSA.com.