Wynn's Heads North of the Border Looking for a Pair of Repeat IMSA Race Wins this Weekend at Canadian Tire Motorsport Park
– Ben Keating, Jeroen Bleekemolen and No. 33 Wynn's Mercedes-AMG Team Riley Defending IMSA WeatherTech SportsCar Championship GTD Race Winners in Canada
– Jim Cox and Dylan Murry Look for Second Straight IMSA Michelin Pilot Challenge Win in No. 35 Riley Motorsports Mercedes-AMG GT4 After Breakout Victory Last Weekend at Watkins Glen
BOWMANVILLE, Ontario, Canada (July 5, 2019) – Wynn's heads North of the Border this weekend looking for a pair of repeat race wins following an IMSA Michelin Pilot Challenge victory last Saturday and an IMSA WeatherTech SportsCar Championship win last year at Canadian Tire Motorsport Park (CTMP), the 2.459-mile road course just outside of Toronto that hosts the IMSA Sports Car Grand Prix, July 5 – 7.
An automotive products technology leader celebrating its 80th Anniversary in 2019, Wynn's is in a partnership with Ben Keating and Mercedes-AMG Team Riley Motorsports for this year's 50th Anniversary IMSA Season in support of the team's No. 33 Mercedes-AMG GT3.
Keating, longtime co-driver Jeroen Bleekemolen and the No. 33 Mercedes-AMG Riley team are the defending IMSA WeatherTech Championship GT Daytona (GTD) class winners at CTMP. A repeat win in Sunday's featured two-hour and 40-minute race would be the team's first since the 2018 triumph at CTMP and put an end to a recent run of tough luck that has seen the No. 33 taken out in unavoidable contact incidents in the last two races.
Sunday's weekend highlight IMSA WeatherTech Championship race will be televised live from CTMP – a track still known to many by its original name, "Mosport" – on the NBC network beginning at 1 p.m. EDT. The telecast is the first for IMSA on the flagship NBC network as part of IMSA's new and long-term partnership with NBC Sports.
"I love this track," Keating said. "It takes courage to do a quick lap, and its high risk and high reward. Courage has never been my problem, as was evident in the first lap of the race at Watkins Glen. You drive through the smoke, have a 50-50 shot of getting through, and I chose wrong. Mosport is a place that rewards that kind of courage and rewards a really great setup."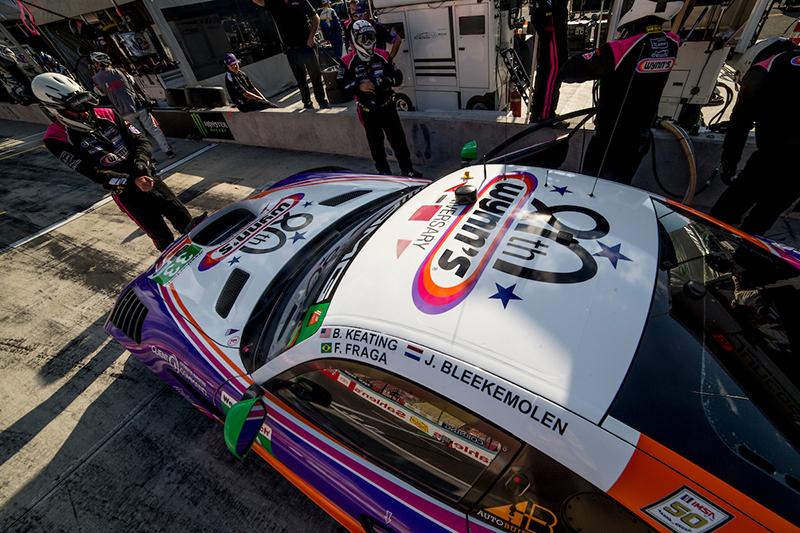 Keating was uninjured in the Watkins Glen incident. This weekend he and Bleekemolen race a replacement Wynn's No. 33 Mercedes-AMG GT3 the Mercedes-AMG Riley team began preparing soon after they were sidelined at The Glen.
Now part of the ITW Professional Automotive Products family, the Wynn's automotive technology products line started in 1939 and continues a heritage of automotive excellence today with an array of products designed to effectively treat and improve a car's engine.
The Wynn's partnership with Mercedes-AMG Team Riley features a special throwback livery that the No. 33 will carry throughout Wynn's 80th year and the 50th Anniversary IMSA Season, including this weekend in Canada. The multi-color scheme was run in 1987 by Hotchkis on a Porsche 962 IMSA GTP (Grand Touring Prototype) entry that was co-driven by John Hotchkis, John Hotchkis Jr. and Jim Adams.
"The Wynn's support has been great," Keating said. "They have been an unbelievable partner and it has been fun for us. We have distributors and dealers at races, and we bring them right under the tent, show them the car, talk about the strategy of the race and make them part of it all. They are getting so much out of this partnership and so are we."
Last weekend's "Wynning" entry at The Glen was the No. 35 Riley Motorsports Mercedes-AMG GT4 in Saturday's four-hour IMSA Michelin Pilot Challenge race. The victory was the first of the season for the Mercedes-AMG GT4 in IMSA and the first for the Riley Motorsports team and co-drivers Jim Cox, Dylan Murry and Bleekemolen in IMSA Michelin Pilot Challenge competition.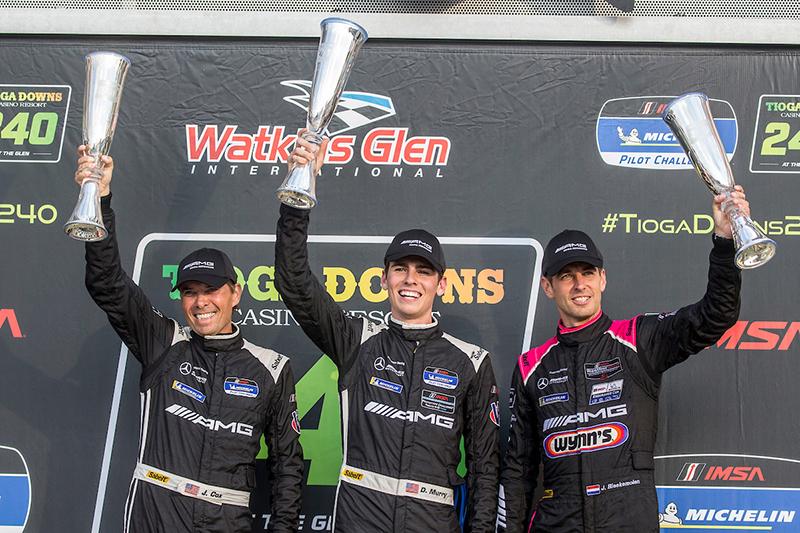 With Bleekemolen joining the team only for the year's four-hour races at Daytona and Watkins Glen, Cox and Murry co-drive the No. 35 as a duo for the rest of the season.
Watkins Glen was the third consecutive Michelin Pilot Challenge race in which the No. 35 was the top performing Mercedes-AMG GT4. Cox and Murry co-drove to a second-place finish at Mid-Ohio Sports Car Course in May and finished fourth at Sebring International Raceway in March.
"We were pretty positive coming into Watkins Glen and now we are absolutely elated," Cox said. "It's going to be the first time Dylan and I have raced at Mosport. We went up there for a little testing a few weeks ago. We both like the course and we are really looking forward to it. The Mercedes-AMG GT4 is great in any conditions but hopefully we can have a nice sunny day."
Practice sessions for both the WeatherTech Championship and Michelin Pilot Challenge take place today and Saturday morning at CTMP. Qualifying for the Michelin Pilot Challenge GS class takes place after final practice Saturday morning at 10 a.m. EDT to set the grid for that afternoon's two-hour race that goes green at 1:55 p.m. EDT.
Qualifying for WeatherTech Championship GTD is Saturday at 11:35 a.m. EDT. Sunday's schedule begins with a 20-minute WeatherTech Championship warmup session at 9:30 a.m. EDT, with the start of that afternoon's two-hour and 40-minute WeatherTech Championship race at 1:05 p.m. EDT.
About Wynn's: Throughout its legendary history, Wynn's, now worldwide, has remained at the forefront of technology. Wynn's heritage of automotive excellence dates back to 1939 and that leadership continues today with an array of products designed to effectively treat and improve your car's engine. Wynn's represents a reliable brand that generations of car owners have come to know and trust, and we'll work hard to keep earning your loyalty, one bottle at a time. Learn more at www.WynnsUSA.com.