Wynn's and Mercedes-AMG Team Riley Build IMSA Michelin Endurance Cup Points Lead with Top-Five Finish in 12 Hours of Sebring
– Three Point Championship Leads for Ben Keating, Jeroen Bleekemolen and Felipe Fraga and the Mercedes-AMG Team Riley No. 33 Wynn's Mercedes-AMG GT3
– Wynn's Celebrates 80th Anniversary in 2019 in Partnership with Keating and Mercedes-AMG Team Riley for 50th Anniversary IMSA Season
LAKELAND, Florida (March 21, 2019) – Wynn's and Mercedes-AMG Team Riley Motorsports drivers Ben Keating, Jeroen Bleekemolen and Felipe Fraga added to their championship leads in the IMSA Michelin Endurance Cup this past weekend at Sebring International Raceway where the No. 33 Wynn's Mercedes-AMG GT3 was driven to a hard-earned fifth place finish in the 67th Running of the 12 Hours of Sebring on Saturday.
Wynn's, the automotive products technology company celebrating its 80th Anniversary in 2019, has entered a partnership with Keating and Mercedes-AMG Team Riley Motorsports for this year's 50th Anniversary IMSA Season in support of the team's No. 33 Wynn's Mercedes-AMG GT3.
"I'm so excited to be partnered with Wynn's," Keating said. "Everything is magical. It's so great. It's IMSA's 50th and Wynn's 80th. Their home base in the U.S. is right down the road from Sebring in Lakeland, Florida, and I'm so excited they had a big contingent here. Everything was great at Sebring, it was just a great weekend, and I'm happy for them. I know they all had a great time here."
In only their second outing with Wynn's, Keating, Bleekemolen and Fraga all led at various points in the Sebring race – a combined 41 laps up front – and battled for the GTD (GT Daytona) class win until the end. Despite some worn-out brakes, closing driver Bleekemolen made a pass for the top five in the final minutes and defended the fifth-place position to the checkered flag.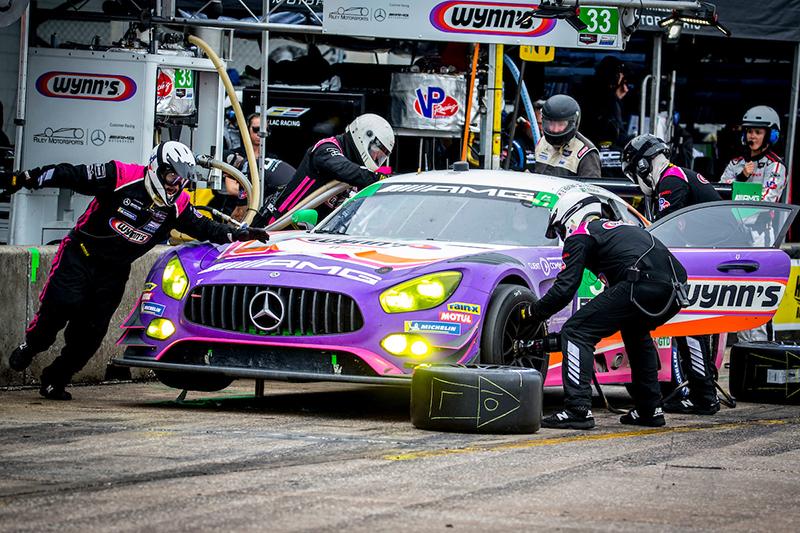 The top-five result was enough for the No. 33 team and drivers to clinch a first-place tie in the Sebring round of the Michelin Endurance Cup and boost their leads in that championship, which is a four-race contest within the overall IMSA WeatherTech SportsCar Championship awarding the top performers in each year's long-distance races.
That amounts to 52 grueling hours of racing in the four-round Endurance Cup season, and the Wynn's No. 33 team and drivers made the most of the 36 hours of combined competition in the year's first two rounds at Daytona and Sebring.
The 14 points the Wynn's No. 33 team and drivers earned in January's season-opening Rolex 24 At Daytona gave them a two-point edge on the GTD competition going into Sebring. The fight-to-the finish run in Saturday's typically demanding 12-hour race added another valuable point to their leads. The No. 33 team and drivers now lead by three points in the Endurance Cup, 25 – 22.
The No. 33 team's OEM partner, Mercedes-AMG, also boosted its lead in the Endurance Cup GTD manufacturer championship by the same 25 – 22 margin. Mercedes-AMG more than doubled its lead after coming to Sebring a single point ahead of the competition.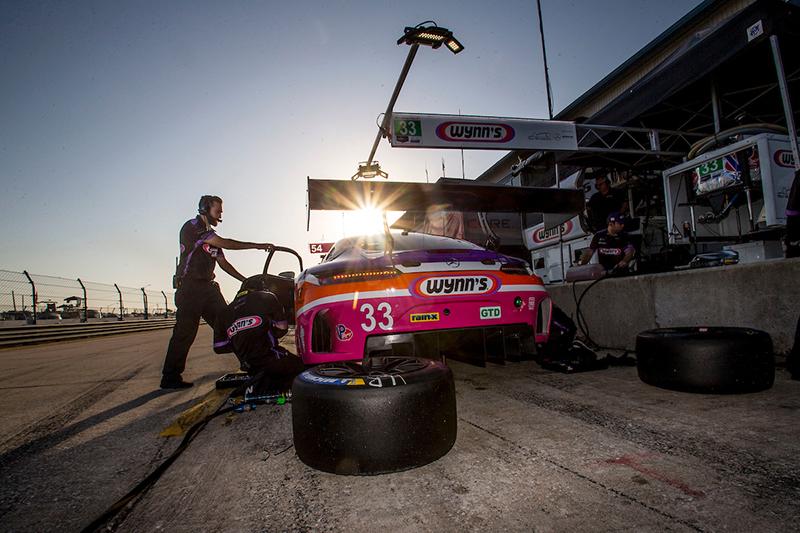 Now part of the ITW Professional Automotive Products family, the Wynn's automotive technology products line started in 1939 and continues a heritage of automotive excellence today with an array of products designed to effectively treat and improve a car's engine.
Wynn's also holds a memorable place in IMSA history in the late 1980s and early '90s when the brand supported Hotchkis Racing and its stable of eye-catching GTP (Grand Touring Prototype) race cars.
The Wynn's partnership with Mercedes-AMG Team Riley features a special throwback livery that the No. 33 will carry throughout Wynn's 80th year and the 50th Anniversary IMSA Season. The multi-color scheme was run in 1987 by Hotchkis on a Porsche 962 IMSA GTP entry that was co-driven by John Hotchkis, John Hotchkis Jr. and Jim Adams.
Saturday's top-five Sebring result also moved the No. 33 drivers into the top five in the overall IMSA WeatherTech Championship GTD standings with 51 points. They are in the thick of a tight group of championship contenders in positions two through five separated by just three points.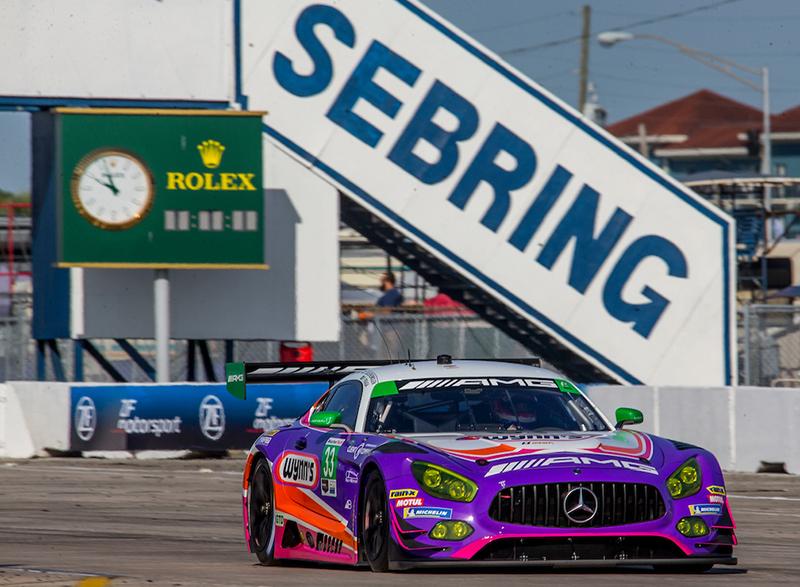 Keating, the all-time IMSA GTD class race winner with 11 career victories, is also the principal owner of the Texas-based Keating Auto Group, which opened Mercedes-Benz of College Station this month. More information on Keating's newest dealership, and his racing accomplishments with Mercedes-AMG Motorsport, can be found at www.AMGPerformance.com.
"I do a bunch of business with Wynn's through my dealerships," Keating said. "They've been a great partner on the dealership side of things, and they love endurance sports car racing. They love IMSA. They're happy to be here and they've been a great partner to work with. Having them around, so enthusiastic and involved, has made us all better."
Next up for Wynn's and Mercedes-AMG Team Riley Motorsports in the IMSA WeatherTech SportsCar Championship is IMSA GTD Round 3 at Mid-Ohio Sports Car Course, May 3 – 5.
Noteworthy: In a Thursday press conference at Sebring International Raceway prior to Saturday's 12 Hour race, Wynn's announced it is expanding its 2019 sponsorship program with Keating to include June's 24 Hours of Le Mans. Keating, Bleekemolen and Fraga will co-drive a Wynn's-supported Keating Motorsports Ford GT in the GTE-Am class in the legendary French race. Although the livery of the entry has yet to be revealed, Bleekemolen knows it will be popular no matter the look.
"I think it's going to be a public favorite car," Bleekemolen said. "I know the atmosphere at Le Mans, how cool it is, how attached the fans are. They're just going to go crazy for this car. I'm sure they're going to show it quite a bit on TV. I was amazed at Daytona how well the Wynn's car was received. Even just announcing they are going to be on our car at Le Mans was big news. It's great, it just adds to the partnership, it's a special program for all of us, and for me, it's just a highlight."
About Wynn's: Throughout its legendary history, Wynn's, now worldwide, has remained at the forefront of technology. Wynn's heritage of automotive excellence dates back to 1939 and that leadership continues today with an array of products designed to effectively treat and improve your car's engine. Wynn's represents a reliable brand that generations of car owners have come to know and trust, and we'll work hard to keep earning your loyalty, one bottle at a time. Learn more at www.WynnsUSA.com.