Wynn's Partners with Keating Motorsports and Co-Drivers Ben Keating, Jeroen Bleekemolen and Felipe Fraga for 24 Hours of Le Mans
Wynn's Takes 80th Anniversary Celebration Global in Sponsorship of No. 85 Keating Motorsports Ford GT in 2019 Running of the Legendary French Race, June 15 – 16
SEBRING, Florida (March 14, 2019) – Wynn's, the automotive products technology company established in California in 1939, will take its 80th Anniversary celebration global this summer at the 24 Hours of Le Mans in France, June 15 – 16, where Wynn's will sponsor the Keating Motorsports GTE-Am Ford GT entry of co-drivers Ben Keating, Jeroen Bleekemolen and Felipe Fraga.
"In celebration of 80 years of providing advanced automotive technology and solutions to help ensure the longevity and enhance the performance of your vehicle, Wynn's is proud to return to motorsports in 2019," said James Stone, Vice President and General Manager, ITW Global Brands. "Across the world, auto enthusiasts and service technicians trust the quality and performance of the Wynn's product portfolio, and today we announce our sponsorship of Keating Motorsports and the No. 85 Ford GT for one of the world's most exciting and demanding endurance races, the 24 Hours of Le Mans."
Keating and his team will be the first privateer entrants competing in a Ford GT, which won in the GTE-Pro class in the return of the legendary sports car to Le Mans in 2016.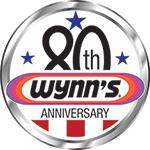 "We are honored to partner with Ford and Keating Motorsports in supporting their iconic Ford GT," Stone said. "Both our customers and employees worldwide are thrilled to have Wynn's back where it belongs… on the track helping ensure maximum performance."
The Le Mans partnership, which was announced in a press conference today at Sebring International Raceway in advance of this weekend's 67th running of the 12 Hours of Sebring, builds on the season-long sponsorship Wynn's has with Keating and Mercedes-AMG Team Riley Motorsports in the IMSA WeatherTech SportsCar Championship.
The Mercedes-AMG Team Riley No. 33 Wynn's Mercedes-AMG GT3 Keating, Bleekemolen and Fraga race this weekend at Sebring carries a season-long throwback livery to be run all year in tribute to both Wynn's 80th Anniversary and the 50th Anniversary IMSA Season. The multi-color scheme was run in 1987 by Hotchkis Racing on a Porsche 962 IMSA GTP entry that was co-driven by John Hotchkis, John Hotchkis Jr., and Jim Adams.
"Wynn's has been such a great partner for us," Keating said. "They produce extremely high-quality automotive products and we produce an extremely high quality of racing to push these products to their limits, everything from Rain-X wipers and coatings to automotive cleaning products. To celebrate Wynn's 80th anniversary with the revival of the Wynn's retro livery from the 1980's is very cool. The fans love it, and it has been a great partnership for all of us."
While no announcements were made about the livery the Keating Motorsports Wynn's entry will run at Le Mans, Keating and his co-drivers know there will likely be a large amount of fan-favorite suggestions and campaigning emerging on social media in the coming days.
"It is so cool to have Wynn's on board for Le Mans," Bleekemolen said. "The retro livery was received so well in IMSA and now we are going to have a Wynn's Ford GT for the 24 hours of Le Mans. I think it will be a stand out car, people will love it, and I'm sure lots of models of our car are going to be sold!"
Now part of the ITW Professional Automotive Products family, the Wynn's automotive technology products line has an 80 year heritage of automotive excellence continuing today with an array of products designed to effectively treat and improve a car's engine.
In addition to the Wynn's relationship, Keating is a third-generation Ford dealer who owns and operates Tomball Ford, Port Lavaca Ford and College Station Ford within his Texas-based Keating Auto Group. Learn more at www.KeatingAuto.com.
The Keating family of dealerships is also adding Mercedes-Benz of College Station this month. More information on Keating's newest dealership and his racing accomplishments with Mercedes-AMG Motorsport can be found at www.AMGPerformance.com.
After two days of practice and qualifying today and Friday, the 67th running of the 12 Hours of Sebring is scheduled to start Saturday, March 16, at 10:40 a.m. EDT. The majority of the race can be seen live in opening coverage on CNBC from 10:30 a.m. to 1 p.m. EDT and then on NBC Sports Network from 3:30 p.m. through that evening's finish and post-race coverage until 11 p.m. EDT.
About Wynn's: Throughout its legendary history, Wynn's, now worldwide, has remained at the forefront of technology. Wynn's heritage of automotive excellence dates back to 1939 and that leadership continues today with an array of products designed to effectively treat and improve your car's engine. Wynn's represents a reliable brand that generations of car owners have come to know and trust, and we'll work hard to keep earning your loyalty, one bottle at a time. Learn more at www.WynnsUSA.com.