Wynn's and Keating Motorsports Unveil Livery of 24 Hours of Le Mans GTE-Am Ford GT Entry
Wynn's Takes 80th Anniversary Celebration Global in Sponsorship of No. 85 Wynn's/Keating Motorsports Ford GT in 2019 Running of the Legendary French Race, June 15 – 16
LAKELAND, Florida (May 28, 2019) – Wynn's, the automotive products technology company that has embraced the 24 Hours of Le Mans as the international highlight of its 80th Anniversary celebration this year, unveiled today the livery of the No. 85 Wynn's/Keating Motorsports Ford GT that team drivers Ben Keating, Jeroen Bleekemolen and Felipe Fraga will race in the GTE-Am class in the legendary French endurance race, June 15 – 16.
"Wynn's has a storied racing past and a history of winning at the highest levels of motorsports," said Manuel Barba, Business Unit Manager, ITW Professional Automotive Products. "We are pleased to be celebrating our 80th Anniversary with our racing debut at the 24 Hours of Le Mans and feel that this is the best possible place to start writing the next chapter in Wynn's automotive products and motorsports history. We wish our race team of Ben Keating, Jeroen Bleekemolen and Felipe Fraga the very best of luck as they pursue victory in the world's oldest active sports car endurance race."
The striking livery for the No. 85 carries the familiar purple and orange colors and trademark Wynn's oval logo in a design that follows the look of the four Ford Chip Ganassi Racing GTE-Pro class Ford GT Le Mans entries unveiled earlier today.
Keating and his team will be the first privateer entrants competing in a Ford GT, which won with the Ford Chip Ganassi Racing team in the GTE-Pro class in the return of the legendary sports car to Le Mans in 2016.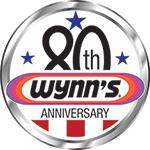 Established in California in 1939, the Wynn's Le Mans sponsorship is the primary international component of the company's year-long 80th Anniversary celebration in 2019.
"From our beginning in 1939 in Chesteen Wynn's garage to today, we're in garages and dealerships worldwide," Barba said. "Our products have had a role in the space program, in many different kinds of racing, but most importantly they're known for automotive performance improvement in your car or truck. The ITW team will be cheering the Wynn's Racing Keating Motorsports No. 85 Ford GT from all over the world."
The Keating Motorsports partnership at Le Mans also complements Wynn's support of the IMSA 50th Anniversary Season campaign Keating and his teammates are running this year in North America in the IMSA WeatherTech SportsCar Championship.
"I am so excited to be working with Wynn's in both the USA and in Europe on these racing programs," Keating said. "They are great partners and this is also their 80th Anniversary year. It seems to be the 'perfect storm' of great people creating great results."
Keating and his Wynn's teammates are two-time and reigning IMSA Michelin Endurance Cup Champions – a four-round IMSA endurance race series – and lead the 2019 standings after the year's opening races at Daytona and Sebring.
Michelin is also supporting the Keating Motorsports Le Mans effort this year, and the No. 85 prominently features the equally legendary "Michelin Man" branding.

"In addition to Wynn's, it is great to have the Michelin Man on the side of our car and representing Michelin tire," Keating said. "There is so much riding on this program. There are so many amazing partners with us on this journey. It is exciting."
Keating returns to Le Mans for his fifth race and following a career-best third-place GTE-Am finish last year with Bleekemolen and Luca Stolz.
Now part of the ITW Professional Automotive Products family, the Wynn's automotive technology products line has an 80 year heritage of automotive excellence continuing today with an array of products designed to effectively treat and improve a car's engine.
In addition to the Wynn's relationship, Keating is a third-generation Ford dealer who owns and operates Tomball Ford, Port Lavaca Ford and College Station Ford within his Texas-based Keating Auto Group in the U.S. Learn more at www.KeatingAuto.com.
About Wynn's: Throughout its legendary history, Wynn's, now worldwide, has remained at the forefront of technology. Wynn's heritage of automotive excellence dates back to 1939 and that leadership continues today with an array of products designed to effectively treat and improve your car's engine. Wynn's represents a reliable brand that generations of car owners have come to know and trust, and we'll work hard to keep earning your loyalty, one bottle at a time. Learn more at www.WynnsUSA.com.